Special Event: My Mother's Day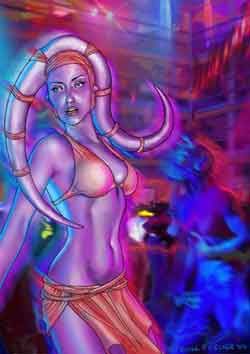 That's how my father remembers my mother. That's the only picture I have of her.
On one of my many visits to try and reconcile things with him, he told me, "She was the most beautiful woman in the entire galaxy."
I believe it too, I've not found a more beautiful woman in the galaxy. I scarcely compare to her when she was my age.
My father told me how ugly I was one visit.
That's life. I go back, at least once a year, I do it for the woman I never knew.
But I keep her faded picture with me. Scarecly showing her true beauty.
I think about how different my life would have been with her to care for me. I wouldn't be a jedi. I'd probably be some Twi'lek dancing girl, with no brains at all.
But I'd of probably been a lot happier.
She died giving birth to me. I think she knew she would die.
I guess she didn't know what I would be like... She might not have even wanted a child.
And a tear falls, good going Erifia, it drops down and lands on her photograph, then it disapears. Almost like she is wiping it for me.
Last night at Midnight I placed a rose in a vase, and wrapped a ribbon around it, with a tiny card that said, "To the best mother in the world," its not going to move, I know that, but every year I do it. At midnight tonight, I'll remove the vase from my room, and give it to the first mother I see the next morning.
Some think I'm crazy, some think I'm sweet, but I never tell them why I do it.
Than they would, like my mother if she were still alive, cradle me in their arms and tell me it would be okay.
Well it may be, someday. Not today though, not mother's day. Maybe it won't be okay until I die. But it will be okay, some day.
So here's to you mom, "Happy Mother's Day."
If you'll excuse me, I've got to stare at a photograph that will never stare back,
Absent hugs, and lost kisses,
Erifia Apoc