The Search for the Bubblebubkin; Part 2 (Becca)
Last night, a man came into Erifia's Ship and he grabbed Tatooine's Toy. Erifia was paying me good money everyday to keep the ship clean and to keep her tauntaun happy. So I had to get her tauntaun its little toy I don't know… Its…
His Bubblebubkin.

He's not very good company… I mean… I don't know, he's like a five year old, he can like scarcely talk. Well, he can talk cause he has a translator… But I don't know.
So I put his leash on and I took him outside.
"Can you smell your bubblebubkin?"
"Uh-huh! I can smell it Aunty Becca! I can smell him too!"
"What's he smell like?"
"Uhm! Let me smell…"
So the little guy led me towards the Coruscant center of activity. There was a mall and such things. He pulled me up to man in white armor.
"Him!" he said excitedly, "Him!"
I tapped his shoulder, "Excuse me…I uhm… I don't know how to say this sir… But Uhm… Could you give me his toy back?"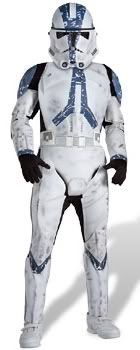 He turned and looked at me, "
TK - 266
, here. You're Erifia Apoc's sidekick. Aren't you?"
"Yes… Can you give him his toy back?"
He pet Tatooine's head, and removed his helmet.
"He looked like me right?"
"I don't know. I guess," I replied.
He laughed. Was he laughing at me? Why would he be laughing at me?
"Can I have it back please mister?" Tatooine asked.
TK – 266 spoke, "Look dear. I know you don't know a lot of things. But I am a clone. There are thousands upon thousands of people who smell and look exactly like me in the army. Perhaps you should check with my boss,
Jardena
. She may know something about the theft of a tauntaun's toy."
I haven't felt this stupid since that time I thought it would be cool to dress up like Smurfette.
Flashback
I don't know… I will never bring this up again… Never… Ever.
End Flashback
"Where is she?"
"She's currently on R and R in Naboo."
"Rags and Rollers?" I asked, "I don't know where that place is anyway…"
"Rest and Relaxation. Naboo should be programmed in Erifia's computer."
I sighed, and Tatooine cried, as Tk – 266 rubbed Tatooine's head, "Good luck… You're going to need it."
-Becca
PS. 6